Funk n Waffles Moves Downtown
Jessica Novak talks with Adam Gold about the expansion of Funk n Waffles downtown from University Hill
It looked like a Friday night on South Clinton Street, but it was a Monday.
Funk'n Waffles, a restaurant and music venue born on the Syracuse University Hill in January 2007, opened a second location Dec. 8 in the heart of Armory Square and started a weekly tradition of Grateful Dead music on Mondays. The weekly "Dead Night" started with a christening set from Sophistafunk (they skipped on the Dead material) followed by The Shining Star Band, a Jerry Garcia tribute group. The place pulsed with excitement for a venue that could change the game in the Syracuse music scene.
Adam Gold, owner and musician of two funk enterprises (Funk'n Waffles and the band, Sophistafunk), saw the need for Syracuse, but also personally.
"I have played all these crazy, sick clubs," Gold says of his band's many tours to some of the best venues in the world over the past seven years. "I thought, 'This is what I need. I play these great spots everywhere else. That's what I need here.' That's what this space will allow me to do. It's big enough with the right elements involved. I didn't feel like the one on the hill wasn't pulling off to its full extent."
Gold will keep the original location open, but his goals for each space will be separate. The Hill location, featured on Guy Fieri's Diners, Drive-Ins and Dives in 2012, will keep catering to their crowd; it's now serving alcohol along with food and coffee. Downtown will serve as a breakfast spot, late-night hang, true music venue and a prime destination for touring bands.
WATCH: Guy finds grade-A fried chicken and waffles at Funk-n-Waffles in Syracuse.
(Source: Food Network)
Why Funk? Why Waffles?
Gold was a film student at Syracuse University when he and his friend, Kyle Corea, befriended David Khan. Khan lived in the attic of Corea's house and during one late night hang, the three decided to make waffles.
"I was like, 'OK, but I don't want just waffles. What do you have to put in them?'" Gold recalls. "I think we went to his freezer, and he had a stack of Girl Scout cookie Thin Mints. We threw them in the blender with Krusteaz waffle mix, and we blended it up and it was awesome."
The wild waffle dares became a regular event, and the creations became more extravagant. Then Gold decided to step up the game.
"I threw down $100, we went to Wegmans and bought all this random stuff: Stonyfield organic banana and strawberry yogurts, fresh strawberries and bananas, whipped cream and Pepperidge Farm Pirouettes (pastry-like round wafers with cream inside)," Gold says. "We blended those all together, topped the waffles with the fresh fruit and that was the first funk and waffles party. That specific recipe was the first one we served."
These funk and waffle parties were exactly as they sounded: Gold's funk band, Sweaty Pants, would play and waffles would be served beside the beer. The recipe (for both the waffles and the party) was an instant success.
The idea became popular on the Hill, and Gold recalls holding about 30 funk and waffle parties in a semester. People would call him, give an address and Gold would bring the party.
Senior year came around, and Gold and Corea were living with Wes Miles (now the lead singer of Ra Ra Riot). Miles came home with an ad from The Daily Orange for a business plan competition. He planned to submit an idea for a T-shirt company, but Gold wasn't one to be outdone.
"Me and Kyle were like, 'You're gonna make a T-shirt company and submit to this? We have Funk'n Waffles!" Gold says.
Miles never entered the competition, but Gold and Corea did. Out of 75 teams, they came in fifth place with an award for creative excellence. It seemed like a sign.
"Our whole college career had gone by and now we had this," Gold says. "We thought, we gotta do this. Before we get jobs in New York City or L.A. We were both film majors and were about to go get coffee for someone for three years until we made it. Instead of doing that, we thought, this is our opportunity to make some huge mistakes without responsibilities to worry about: no families, wives, kids. We were ready to make some serious moves without worrying about how much it was going to cause trouble."
Gold and Corea went on a cross-country trip after graduating in May 2006 and used the travel as a chance to see what breakfast places throughout the United States were doing. When they returned to Syracuse, they got jobs in the restaurant business (since neither had worked at a food establishment before) and learned the ropes. When they were leaving their jobs at AppeThaizing one night, they passed La Tazza, a coffee place that was where the original Funk'n Waffles sits.
The owners, who had helped Gold and Corea write their business plan for the competition, were looking to get out of their lease, and though Gold had found a location for the waffle joint, he wasn't set on it. La Tazza felt right. They worked out a deal to transition ownership over two years, and the original Funk'n Waffles was born.
Uptown to Downtown
Sophistafunk formed soon after Funk'n Waffles opened in 2007 and has been on a steady climb since. They've toured across the United States and the United Kingdom. They've become friends with people like Guy Fieri and Jimmy John thanks to the restaurant being featured on Diners, Drive-Ins and Dives. Gold's experience as a musician sparked his drive to make his own venue like those of his, and the band's, favorites.
"Kyle (who left the restaurant in 2012) and I always dreamed of having this Funk'n Waffles concept," Gold says in reference to the set-up of the new location.
The downtown venue separates food from music allowing both sides to coexist together and independently. They had also dreamed of a downtown location, in the heart of the city.
When Gold was dropping off his girlfriend, Rebecca, for work at Small Plates in late 2013, he was walking back to his car when he saw a "For Rent" sign in the window of XL Projects on South Clinton Street.
"I thought, 'Oh my God, I gotta call this landlord.'"
He did and within the hour, both were walking through the space.
"I never thought a place this big would be available downtown or that I'd have a chance to call about it," Gold says.
He signed a lease on Dec. 31, 2013, right before leaving on another Sophistafunk tour. A year later, the venue was transformed, opened and stands as a scene-changing mid-capacity (185 people) venue.
The Team
Gold was at the original Funk'n Waffles a few months back when Sam Levey, who had been an owner of the Westcott Theater, walked in.
"Sam says, 'I just sold the Westcott back to Dan Mastronardi. I want a job at Funk'n Waffles,' straight up," Gold recalls. "The word was out that he was out and everybody wanted him. All these people wanted Sam; he's been doing this forever. And he's coming to me."
Levey quickly took over as bar manager and recommended a local musician, Charley Orlando, for the job of talent buyer.
"I think Charley called me himself," Gold says. "He said, 'I'm leaving Guitar Center. I want to talk.' So, I got him on board."
The trio is accompanied by other key players in the kitchen, like John Betsey, Steve Samuels and Jared Freihoff. The team makes the downtown location a powerhouse on all fronts. But Orlando has specific plans for the music.
"I've had 30 years of managing and booking myself," he says. "I know how agents work, how bands come at clubs. I want to make this a really artist-friendly venue. After meeting with Adam briefly, I knew we were on the same page right away. It's super important for the town and for me to be involved."
Orlando is proud that the venue has no televisions and of the way it prepares for shows.
"The tables are moved out of the way every day," he says. "Everyone stares right at the stage."
He also wants to build a venue and community without fragmentation.
"It's (Funk'n Waffles) not genre-specific," he says. "What I'm looking for is killer original music. Even if it isn't original, it has an original take. And we want ticketed shows. We want the population to get used to throwing a little money in to support the artist."
The schedule is packing up quickly. Every Monday is Dead Night. Tuesdays feature Pirate Jam or Chris English's Pro Jam. Every first Sunday will feature a songwriter showcase. Other days of the week will feature both local and national acts.
"When I was in college, there were venues downtown," he says. "They were the places to play in Syracuse. Something about downtown, it seemed like more of a real venue. Funk'n Waffles feels like a real venue. It feels like music's gonna go down, and it's gonna be great. No matter what band we book, come anyway. It's gonna be amazing. Nothing shy of great."
The Future of the Funk
1. Breakfast. "I'm from Jersey. I wanna start slingin' some friggin' egg sandwiches. God damn!" – Adam Gold
2. Bike Couriers. Gold wants to deliver food by bike rather than by car.
3. 24/7. "If there's a market for 24-hour weekends in Syracuse, I want to stay competitive," Gold says. "People shouldn't have to go to Stella's – I love Stella's – but if they're down here (in Armory), they should be able to eat here." Until then, the venue will keep expanding hours. Food is served from 9 a.m. to midnight Sunday through Thursday and 9 a.m. to 2 a.m. Friday and Saturday.
4. Music Mayhem. The goal is seven days of music and primarily national acts. Talent buyer Charley Orlando says they're almost there.
5. Team Player. Gold is quick to debunk the belief that music doesn't happen in Armory Square already. "Al's (Wine and Whiskey) has music all the time," he says. "Suds (Factory) has happy hours, Empire (Brewing Company) brunch, Limerick Pub on Tuesdays, Blue Tusk. … There is music, but it's not the same. No one is charging. We want to provide a place in downtown Syracuse where bands can grow a market and make some money."
Fast Facts
923 Ackerman: Where the first-ever Funk'n Waffles party was held.
Dec. 24, 2012: The Funk'n Waffles Diners, Drive-Ins and Dives episode airs for the first time
185: capacity of Funk'n Waffles downtown
Killer Quote
Adam Gold on being part of Diners, Drive-Ins and Dives:
"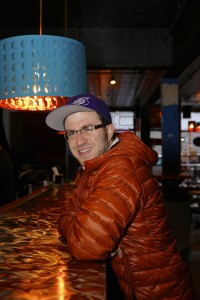 I didn't know what to do without Kyle (Corea) being a business partner. Then got the call (from Diners, Drive-Ins and Dives). I watched the show enough that they had to call me – that's how I see it in my weird fantasy brain, anyway. But it's true. I watched the show more than ever and they wanted to come to Syracuse and we got it. We got it with Pastabilities – they deserve the shit out of it. They've been doing it for 20 to 30 years, and their story is amazing and beautiful and sad. She's a fixture in this community and here I am – this shmuck with this waffle thing. We've been open for five to seven years. And got in on the same plane as Pasta's, Empire, Kitty Hoynes. I was so blown away. With Eva's! This woman's been making pirogies for 100 years probably. And we got in the game. It was so humbling and such a reminder that it was the right move to buy this off of Kyle and do this."
For information: funknwaffles.com

[fbcomments url="" width="100%" count="on"]