Richard was eight years old back in 1983 in his home town of Hopewell Junction in Dutchess County, NY. It was early evening on June 28, Richard and a couple of his friends were shooting off some small fireworks in preparation for the upcoming 4th of July display his family was planning. Of course his parents were supervising the boy's activities. They had just tested some bottle rockets and with the help of his dad were prepping some skyrocket mortars. They had just tested a couple of the rockets when something strange happened.
"Suddenly, we started to hear a very low sounding humming noise. Directly in front of us, a series of lights shaped in an arc was coming closer. We all immediately knew what this was. The craft was easily 1000 feet long; it covered the majority of Jefferson Park which is a development near where they lived."
Richard tells us that the object was very low to the ground and that the many lights on it gave some hint as to its oval-ish disc shape. He tells us that lights along the edges were all different colors.
"I mostly remember the reds, yellows and whites. All of the lights were evenly spaced from each other and had a flickering quality to them. Except for the initial low humming the craft was silent, as it hovered over the neighborhood."
Richard tells us that his dad ran inside to get a camera, his mom was screaming hysterically. His boyhood friends while super excited decided to light off another skyrocket to see what would happen.
"After the skyrocket exploded… we heard another loud bang and humming sound again. The craft rotated slightly on its axis and in a whoosh it was gone."
He explains that by the time his dad came out of the house with the camera and there was nothing more to see.
Richard shares the deeper experience, "Here is the odd part. It's the part that scares the crap out of me. Nobody said a word and for the most part."
The interesting thing he shares with us is the fact that they were all lighting off the fireworks at 8 p.m. and seeing the hovering disc and but none of them remembers what happened after that. The next recollection he and the others have was from around two or three hours later.
"Nobody in our group ever talked about the event. About three years later I asked one of my friends about it and he said he didn't know what I was talking about."
Richard is now forty something and an executive for a large corporation in the metropolitan New York City area.
He tells us, "I would like to learn more about this event in my life."
Anyone who has read Whitley Strieber's book "Communion" can see certain interesting parallels to the events that occurred with the Strieber family in 1986 in the same region, just across the Hudson over in Orange County.
Let's look at some recent UFO sightings in New York Skies:
As deep winter is the low season for UFO sightings, the reports are a tad scant this week.
4 February 2015: at about 1 a.m. a New York resident reports waking up to an odd sound and reports having seen a short entity in a blue uniform standing near the foot of the bed.
5 February 2015: at about 6 p.m. Morrisonville, NY couple report seeing an orange fire ball UFO, while attempting to take a photo his cell phone camera went dead.
5 February 2015: at about 9:03 p.m. a resident of Montour Falls, NY reports seeing dozens of bright glowing objects darting around.
If you have a UFO sighting to report, you can use either one of the two national database services: www.NUFORC.ORG or  www.MUFON.COM   – Both services respect confidentiality.
Cheryl Costa would love to hear the when, where and what of your New York sighting. Email it to [email protected]. The names of witnesses will be omitted to protect their privacy.
The 24th International UFO Congress 2015 will be held near Phoenix, AZ from 18-22 Feb. Cheryl Costa will be posting daily blogs and video reports from the conference, right here on SyracuseNewtimes.com!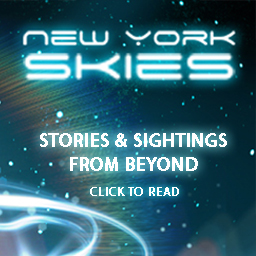 [fbcomments url="" width="100%" count="on"]