In the early 1960's, the internationally renowned architect, I.M. Pei (John Fitzgerald Kennedy Library in Boston, Grand Louvre in Paris), began designs for an art museum to be located in Syracuse, New York (of all places). A big name for a small museum — this is what matters. The Everson Museum of Art, in my opinion, could be one of the most underutilized places by the community in Central New York.
The flat face of the building that hangs above the fountain probably wasn't designed for movies, but it's the perfect place to gather for an outdoor screening. This summer's The Grand Budapest Hotel showcased more beautifully than within the some darkened room of Destiny. The hundreds that gathered for the movie, those people also visited and talked to the local vendors that set up shop, probably felt the same way.
There was a personal desire to know why Mr. Pei agreed to develop in Syracuse, so I reached out to his agency. On Monday, his Executive Assistant Nancy Robinson sent a reply:
"Mr. Pei is retired now, and not answering inquiries or doing interviews.  But you can probably find an answer to your question in his biography, I. M. Pei: A Profile in American Architecture, by Carter Wiseman."
As the weather grows colder, visiting this "monolith structure of poured-in-place concrete and local granite aggregate to compliment Syracuse's numerous red sandstone buildings" (according to the Pei Cobb Freed & Partners website) is still a valuable cultural experience.
This December marks the 29th season that the Everson Museum has organized the Festival of Trees display.
For almost three decades, community members and organizations have participated in decorating and sculpting holiday trees, wreaths, and displays. This year, as every year, the displays are for sale; the money raised is donated towards the museum's programs and exhibitions. There is an added bonus raffle as well. The "Spree Tree," which is a prize of copious deals from over 60 local restaurants and businesses is being raffled; tickets are $5 each, or three for $10.
"We have over 150 displays this year," said Renee Storiale, Visitor Services Manager for the museum.
"This is my first Festival of Trees as part of the museum, and it's exciting to be a part of it." Storiale, who is a Connecticut native, is new to the museum staff as of this year. She has lived in the Central New York area for the past 10 years.
Storiale spoke about special events that go along with the festival: Milk and Cookies with Santa took place on Sunday, Dec. 7. On Thursday Dec. 11, there is a holiday-themed beer garden from 5 PM to 8 PM, and the Syracuse City Ballet is performing a Nutcracker Spectacular on Saturday Dec. 13 from 12 PM to 5 PM. Both upcoming events are included with admittance into the Festival, which is $5 per person.
Interim Director Sarah Mossett is incredibly excited about this year's festival. "It's fantastic! The museum has been mobbed with visitors, and the event's Preview Gala had a record breaking attendance." She feels everyone's support by simply attending and taking an interest in the museum cannot be defined, and the excitement in her voice validated her words. Massett continued, "Our new Executive Director, Elizabeth Dunbar, is starting next week. We're excited for all the new and upcoming changes, additions."
The December 5 – 14 holiday celebration contains more than decor. Live dance, music and choral performances from surrounding schools are scheduled over the nine day exhibit.
When I visited late-afternoon Friday, December 5, Manlius Pebble Hill Lower School had performed, and the Wellwood Middle School Chamber Choir were on deck to belt out tunes. On December 12, my alma mater, Camillus Middle School will be performing at 1 PM. 

On the second floor of the museum, one stand-out tree — "Dr. Sweet Treats" — is candy-coated. The candy is sweet looking and bulbous, and the temptation to pick off a couple pieces is undeniable. Of course, as I stepped closer to the tree, the sweet looking bits revealed themselves to be nothing more than facades. Great job, Morgan Road Family Care (Bruce Silverstein, M.D.), you had me fooled.
A couple of gallery attendants assured me that I wasn't the only one who felt tempted to pick off the decorative candy.
Storiale confirmed that there are usually around 11 volunteers on the floor at all times, and 15 total present in the museum. Everson's volunteer staff is a friendly group. They greeted me with smiles and hellos, pointed me in the right directions, and they answered questions effectively. Volunteer Mike Cunningham also braved a spontaneous photo opportunity, agreeing to pose with Renee Storiale in front of the Stickley-designed tree in the main lobby.
The Stickley, Audi & Co. tree is classically elegant and so is the Syracuse City Ballet's tree, and they surprisingly mesh with several other unrelated displays including the three centerpieces (done by Carol Watson Greenhouse, Mirbeau Inn & Spa, and Dorothy Brock) and the hand-made wreath by Smock, which has a big red SOLD tag hanging from it.
Renee explained to me the process: all of the displays are up for sale (as mentioned earlier); the red tag means the item has been sold, and the white tags can be taken to the main desk to make a purchase. "All of the items can and will be picked up or delivered on the 15th and 16th of the month," she said.
It's difficult to pick and choose a personal favorite among the 150+ items. There were several themed trees (The Wizard of Oz, in the spirit of Syracuse University, The 12 Days of Christmas), and Living Word Academy's take on Van Gogh's "Starry Night" is difficult to forget. The Empire State Lyme Disease Association's "Tree of Life" embodied a woodland theme. Of the wreaths: David Muolo's "Nature's Elegance" and Liverpool Middle School Spanish Club's "Guatemalan Worry Dolls" are notable. Jill McCauley also provided a three-tree display with Origami ornaments. And sculptor Jeff Robinson's "Artic" hand-designed tree in the lobby is definitely worth admiring (it has been sold).

It was difficult to leave without my asking the gratuitous question: What display is your favorite? Storiale smiled at me with narrowed eyes that asked: Really? She was a good sport and gave me the honest, but expected answer: "It's really difficult to choose …"
Just the Facts
Everson Museum's Festival of Trees
December 5 – 14
Everson Museum of Art
401 Harrison Street
Syracuse, New York 13202
Tel (315) 474 6064
Performance schedule/Hours – CLICK HERE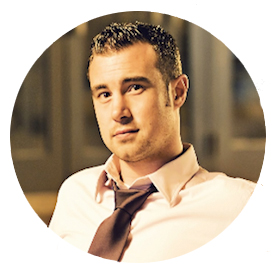 Christopher Malone plays with more thoughts and words at his blog, The Infinite Abyss(es), and at Kinani Blue. He can also be found creating worlds and playing with invisible objects with the Syracuse Improv Collective.  Feel free to tweet at @Chris___Malone, or email him at [email protected].
[fbcomments url="" width="100%" count="on"]