If you are itching to do something — if it's not malicious — do it.
Sometimes you just have to write a sonnet.
A little over a week ago my brother and his girlfriend're relationship has been solidified. Mars Jewelry on James Street matched exactly what he was looking for… actually, what she was looking for.
Jennie Saia writes at her blog, Tip of My Tongue. In her recent piece, "Under His Umbrella," she tells the story of how she met her husband.
The purpose was to write a love poem. The last couplet — as fitting as it is — was not written first, mind you. The poem came out the way that it had. Each line was written in order. I blended the two relationships, the situations, and I added my own take on hopeless. The canopy at the end is purposefully ambiguous.
Despite knowing I've written more than three sonnets, there is reassurance of two being alive in my notebooks. Ergo, this is …
~~~
Sonnet 3
It'd drive you nuts if I wrote like Cummings.
The spacing and punctuation alone —
They would kiss your lips and leave you humming;
They'd sour your tongue, allow you to drone.
Yet, there's no poetry like holding hands,
To twirl into a dip, save your falling,
Pressing bodies are snug after your stand;
Cheek-to-cheek smiles grow without a stalling.
In this notebook are the pressed leaves of grass —
Underlining quips, marking the pages —
As we stared at the clouds, drifting, time passed:
Concept of a day mapped out in stages.
O'er the course of hours, the rain came to sing.
Under this canopy, I placed this ring.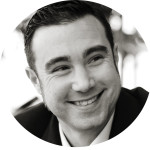 Christopher Malone plays with more thoughts and words at his blog, The Infinite Abyss(es), and at Kinani Blue. He can also be found creating worlds and playing with invisible objects with the Syracuse Improv Collective.  Feel free to tweet at @Chris___Malone, or email him at [email protected].
[fbcomments url="" width="100%" count="on"]