It's always a challenge for modern-day film programmers to unearth hidden gems from Hollywood's early years, and it doesn't help when real-life disasters from nearly 80 years ago literally wiped out part of that history. That's what happened in 1937 when a vault fire at 20th Century Fox destroyed the nitrate negatives of far too many pre-1935 studio features.
The good news, however, is that some prints get discovered in the oddest locations, perhaps in a European archive or in a collector's stash, The Syracuse Cinephile Society's annual Cinefest confab, which has been screening such forgotten flicks for 34 years, will spotlight a batch of these Fox flicks this weekend. The movies will run from Thursday, March 13, through Sunday, March 16, at Liverpools Holiday Inn, 441 Electronics Parkway.
Cinefest president Gerry Orlando said that visitors from France, England and Germany will make the trip, plus there has been a considerable walk-up business in recent years. The one event that always attracts a sizable crowd is the annual Sunday-morning auction of celluloid-related bric-a-brac hosted by film historian Leonard Maltin, whose witty repartee adds to the merriment.
There will be plenty of 16mm screenings mixed in with digitally projected Tinseltown treats at the hotels convention center. Dealer rooms are also sprawled about the hotel hallways, with four-color lobby cards and posters, magazines, books, DVDs and much more. Some of the dealers even bring their musical instruments and get together for impromptu jam sessions.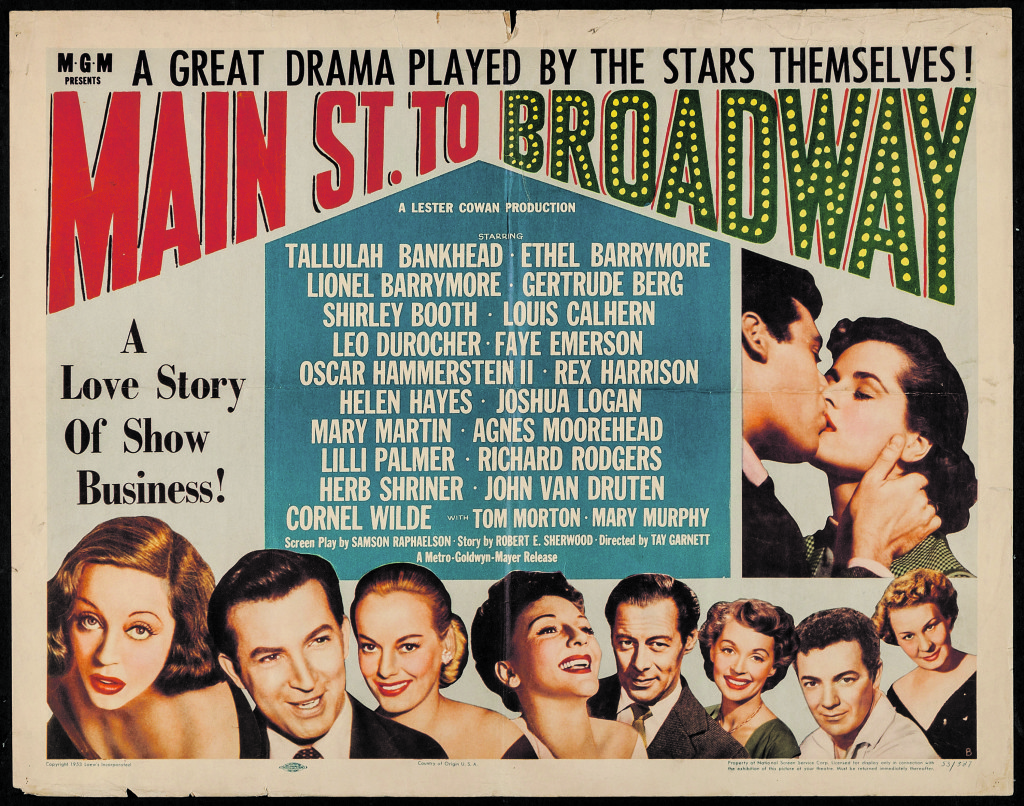 Thursday, March 13, kicks off with the 1953 independent production Main Street to Broadway (9 a.m.), which had enough star power to earn a distribution deal with MGM. Oodles of familiar faces (including Tallulah Bankhead, a few Barrymores, Rex Harrison and Rodgers and Hammerstein) turn up in a too-familiar plot about making it big on the Great White Way. From 1922 comes Saturday Night (10:45 a.m.), one of two Cinefest 34 entries to be directed by Cecil B. DeMille. The Leatrice Joy silent comedy, which was one of Alfred Hitchcock's favorites according to a 1939 interview, features lavish sets, a tenement blaze and William "Hopalong Cassidy" Boyd as an extra,
Following a lunch break will be the sixth annual batch of old coming attractions (1 p.m.) presented by host Ray Faiola, this year focusing on weekly chapter serials featuring Flash Gordon, Captain America and other cliffhanger favorites. Swinging next onto the Cinefest screen is Paramount's 1927 baseball silent comedy Casey at the Bat (2:05 p.m.), with Wallace Beery as Mudville's iconic slapstick slugger plus ZaSu Pitts as his romantic interest.
Five short subjects from the Library of Congress collection will be unveiled under the umbrella title "Lost and Found" (3:10 p.m.), featuring rarities like the 1920 Alice Howell two-reeler A Convict's Happy Bride, Mack Sennett's 1912 The Duel, Billy Franey in 1921's The New Member, Hungarian comic Charley Puffy in 1926's Not Guilty and Charley Chase in 1919's Her Tender Feet. The afternoon concludes with Pathe's 1930 circus musical Swing High (4:15 p.m.), a sawdust spectacle with Fred Scott romancing aerialist Helen Twelvetrees, plus sideline bits with old pros Ben Turpin, Chester Conklin, Clarence Muse and Stepin Fetchit.
The evenings flicks commence with the teaming of Monty Collins and Three Stooges supporting player Vernon Dent for Household Blues (8 p.m.), a 1929 comedy short from poverty-row studio Educational Pictures (always billed as "the spice of the program"). Florida's Palm Beach provides the scenic backdrop for Fox Film's 1927 silent comedy The Joy Girl (8:10 p.m.). Prolific director Allan Dwan, who had nearly 400 films to his credit, guided the spooning between Olive Borden and Neil Hamilton, with comic relief Marie Dressler on the sidelines.
Next is Paramount's 1915 silent drama Fanchon the Cricket (9:20 p.m.), starring curly-haired cutie Mary Pickford, with brother Jack and sister Lottie also in the cast. According to the Mary Pickford Foundation's website, the film was considered lost for decades until several reels turned up in England during the 1990s, which have now been restored by the Cinematheque Francaise.
Western star William S. Hart, in his third feature, rides the range for the 1915 sagebrush silent The Darkening Trail (10:40 p.m.). The night ends with Love from a Stranger (11:25 p.m.), the 1937 thriller based on an Agatha Christie novel, with Ann Harding as the imperiled spouse of a screws-loose husband (Basil Rathbone).
The opener for the morning slate on Friday, March 14, features the 1931 Fox drama Always Goodbye (9 a.m.), starring Elissa Landi, Lewis Stone and Paul Cavanagh in a tale of detectives and diamond thievery. Paramounts 1916 silent For the Defense (10:05 a.m.) offers real-life married performers Fannie Ward and Jack Dean in a melodrama concerning convents and white slavers. Director Frank Reicher would later go on to play the ship captain in 1933's King Kong.
The Library of Congress' "Best of Mostly Lost" program (11:10 a.m.) presents several restored reels from hard-to-document films from the silent era. A quartet of four recently identified reels (including the 1927 William Frawley soundie Ventriloquist) will be on hand, plus an untitled mystery entry for Cinefest sleuths to chew on.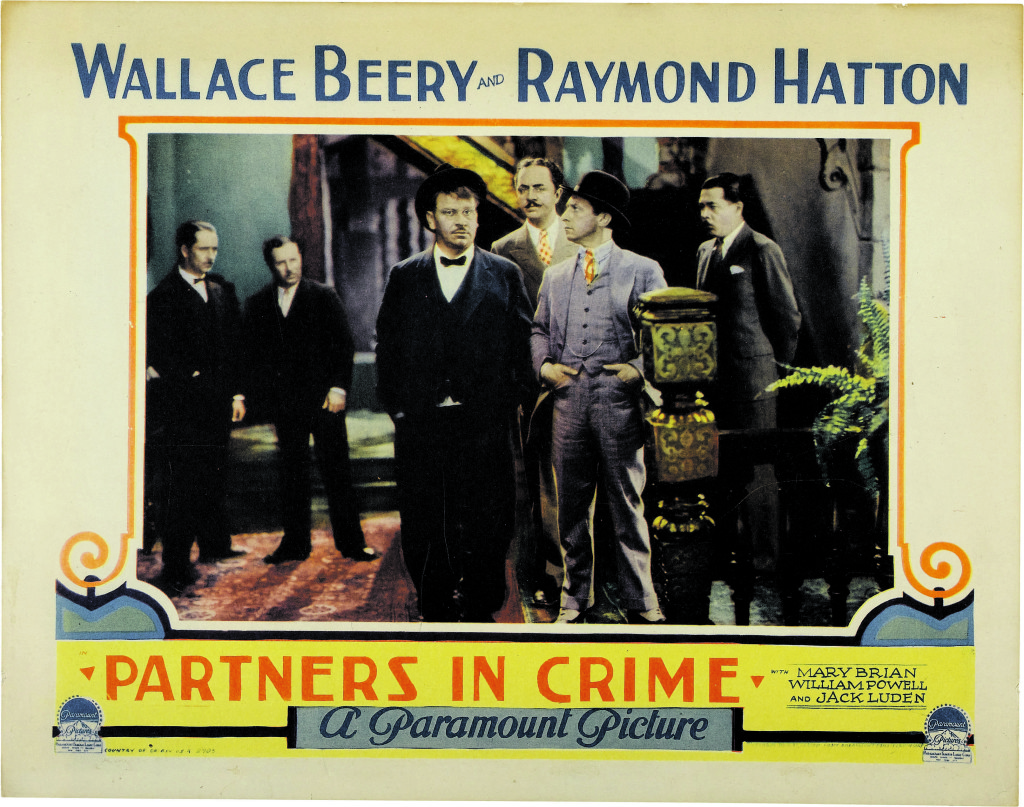 The afternoon begins with musician Ben Model's lecture titled "Undercranking: The Magic Behind the Slapstick" (1 p.m.), a study on the making of silent comedies that he presented last summer at the Library of Congress. Then Wallace Beery returns for Paramount's 1928 silent comedy Partners in Crime (2:15 p.m.), a tale of gumshoes and gangsters that also features Raymond Hatton, Beery's frequent co-star in a dozen silent entries.
The "Found and Preserved" program (3:15 p.m.) offers a six-pack of silent comedy rarities (3:15 p.m.): 1913's Injuns; the 1916 Musty Suffer entry Blow Your Horn; Stan Laurel sans his well-known portly partner in 1923's When Knights Were Cold; the 1925 two-reeler Queen of Aces; Oliver "Babe" Hardy paired with Billy Ruge for the 1916 Plump and Runt short The Serenade; and the 1916 Roscoe "Fatty" Arbuckle farce His Wife's Mistake, filmed at Triangle Studios in the then-burgeoning film capital of Fort Lee, N.J., nearly a century before the city became known for gerrymandered traffic jams.
Capping the afternoon is A Waltz Dream (4:25 p.m.), a 1925 silent drama from Germany's acclaimed UFA studio that earned a stateside release through MGM, then was later remade as the 1931 Maurice Chevalier vehicle The Smiling Lieutenant.
The evening slot begins with the fourth annual installment of the Song in the Dark program (8 p.m.) hosted by Richard Barrios, who offers another cornucopia of excerpts and deleted musical numbers from early sound musicals. Barrios, by the way, is celebrating the publication of his new book, Dangerous Rhythm: Why Movie Musicals Matter. Norma Talmadge produces and stars as a princess-turned-prostitute in The New Moon (9:15 p.m.), a 1919 silent that takes place after the Russian Revolution. Madge Bellamy headlines the 1926 silent Fox flapper flick Sandy (10:20 p.m.). The evening's nightcap is the 1928 Universal silent Buck Privates (11:40 p.m.), a service comedy featuring ZaSu Pitts.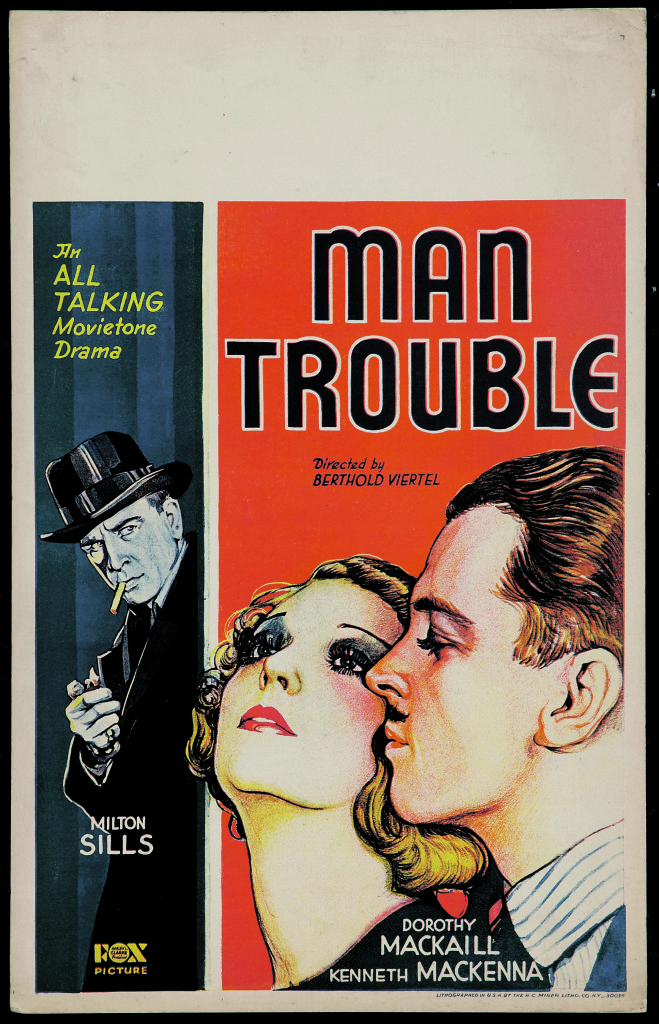 The morning roster for Saturday, March 15, includes Man Trouble (9 a.m.), a 1930 Fox drama about bootleggers and speakeasies that highlights the fourth and final teaming of stars Milton Sills and Dorothy Mackaill. Sills would die of a heart attack while playing tennis at age 48, just three weeks after this film's release.
Louis Despres, who runs a website devoted to Swedish comedian El Brendel, hosts his second annual program of the comic's home movies (10:30 a.m.), with major stars from Hollywood's Golden Age cavorting in behind-the-scenes footage. And Bachelor's Affairs (10:55 a.m.), a 1932 Fox farce, offers Adolphe Menjou as a middle-age philanderer who unwisely embarks on a May-December marriage with a young spouse (Joan Marsh).

The afternoon shows commence with the silent comedy-drama What's His Name (1 p.m.), Cinefest's second Cecil B. DeMille feature, and only his third as a filmmaker. Max Figman plays the title role, a husband who is perfectly happy as a soda jerk until his wife (Lolita Robertson, Figman's real-life spouse) gets bitten by the show-biz bug. Next is the 1930 Fox drama The Sky Hawk (2 p.m.), with Helen Chandler and John Garrick in a World War I adventure about aviators and zeppelin attacks.
Madge Bellamy makes another Cinefest appearance with Ankles Preferred (3:20 p.m.), a 1927 Fox silent comedy in which the actress' shapely gams are given ample display. And Dancing Pirate (4:25 p.m.), from RKO circa 1936, is an obscure swashbuckling musical with Frank Morgan (The Wizard of Oz) that is presented in a rare Cinecolor print.
The evening screenings start with Roscoe Arbuckle, under his directorial nom de plume William Goodrich, helming the 1926 silent comedy short Home Cured (8 p.m.), featuring Johnny Arthur as a hypochondriac. The 1931 Fox comedy Not Exactly Gentlemen (8:15 p.m.) is a western-comedy talkie with Victor McLaglen, Lew Cody and Eddie Gribbon as crooks who help Fay Wray land a gold mine.
The 1925 silent comedy The Live Wire (9:20 p.m.) offers Johnny Hines as a circus clown whose lovestruck ways lead to a job with an electric company. Olga Baclanova (Freaks) is at her sexiest in the hotsy 1929 Paramount talkie A Dangerous Woman (10:25 p.m.), a tale of lust in East Africa. The night's final feature, the 1938 Universal programmer Danger on the Air (11:35 p.m.), offers B-movie character actors galore (including a young Lee J. Cobb) in one of eight filmed "Crime Club" mysteries.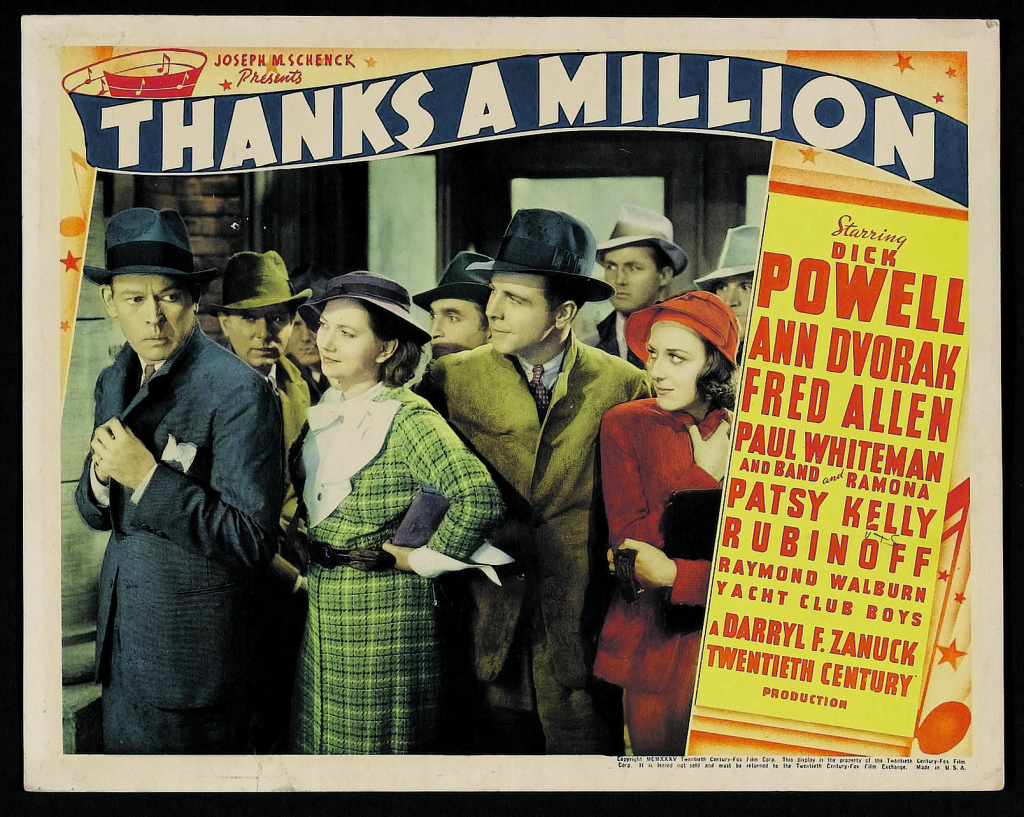 Before the 10:30 a.m. auction commences on Sunday, March 16, Cinefest will unspool Foxs 1935 musical comedy Thanks a Million (9 a.m.), with Fred Allen (the acerbic radio comedian in his screen debut), Patsy Kelly, Dick Powell (on loan from Warner Brothers), and bandleader Paul Whiteman. After the auction will be the sixth annual salute to Justin Herman, the Peabody Award-winning writer-director behind three comedy shorts from Paramounts Pacemaker series: 1948's Musical Miracle (featuring Paul Whiteman) and Make Mine Monica (with Ed Sullivan), as well as 1950's Sing Me Goodbye (noon). Cinefesters will get to see the late Hermans own prints of these rarities.
Rex the Wonder Horse is the real star of the 1926 silent western The Devil Horse (12:35 p.m.), although fans of classic stuntman Yakima Canutt should enjoy one of his rare leading roles. Director Alexander Korda guided star Fifi D'Orsay in the 1930 Fox comedy Women Everywhere (2:05 p.m.), a Morocco-based musical adventure about the French Foreign Legion. The 1917 silent melodrama The Crab (3 p.m.) offers the charms of moppet Thelma Salter, who softens the crusty edge of a codger (Frank Keenan). Cinefest 34 unspools its last reels with the 1927 silent comedy Flying Luck (3:55 p.m.), with Jean Arthur and Monty Banks in an aviation-themed outing.
Four ivory-ticklers will be on hand with piano accompaniments on the silents: Dr. Jon Mirsalis, Jeff Rapsis, Makia Matsumara, Judith Rosenberg. Authors and film historians who will also be attending Cinefest include the aforementioned Richard Barrios (A Song in the Dark: The Birth of the Musical Film), as well as Martin Grams Jr. (the 816-page history of The Green Hornet). There will also be several archivists to handle introductions of specific features, including Chris Horak from UCLA Film Archive, James Cozart, Rob Stone and Rachel Parker from the Library of Congress and author-historian Steve Massa.
Admission for all four days is $85, with daily ducats fetching $30. The dealers rooms will also be open to the public on Saturday, 10 a.m. to 6 p.m., with a $5 admission. For Cinefest information, visit syracusecinefest.com; for Holiday Inn details, call 457-1122.

Bill DeLapp is
the Managing Editor
of the Syracuse New Times.
[fbcomments url="" width="100%" count="on"]