Twenty years ago on Halloween, Born Again Savages played at the Lost Horizon. The band's members, including vocalist Tom Carpenter, bassist John Thomas, drummer Stefan Ilnitzki and founding guitarist Joe DiRienzo, laugh as they go around the room remembering the costumes on stage that night, which included a "born again savage" in a shag throw, or as Thomas calls it, the bathroom rug."I stayed away from him because he stank like the bathroom rug, too," Thomas says with a laugh and a reappearing smirk. "I'm the thorn in Tom's side."
Recapping two decades through an interview isn't done so much by question and answer as it is with wide eyes and laughter. They boomerang stories about their misadventures with pride and a wicked sense of humor. And they've still got the punk look and attitude about them: black clothes and skulls, tattoos and long hair.
As they sit in their rehearsal space of 13 years, it makes sense. The walls are covered in event posters of the many shows they've played, including photos and banners, while things like sombreros and a coffin-shaped coffee table add even more personality. Aside from the instruments, there's a full public-address system with speakers hanging from the ceiling, and the necessary kegerator.
Plus, it's deep enough in the ground and far enough from a neighbor that they don't have to turn it down. "We play at full volume down here," Ilnitzki says.
"When we started, I didn't know how to play anything," Thomas recalls. "Joe taped the notes along the side of my guitar and put a circle of fifths on the floor." As he says this, Carpenter pulls out the actual circle of fifths (a circle that shows the 12 tones of the chromatic scale and their corresponding key signatures).
"I would put my foot on a note, John would find it on the tape on his guitar, and then he'd play it," DiRienzo says. "One note at a time."
DiRienzo was the only trained musician of the group. With a music degree from Onondaga Community College, he took on the role of musical leader and showed the way for his cousins, Ilnitzki But time and practice tightened the band that started in 1991. Vocalist Jamie Flynn came into the fold even though he didn't visually fit the band's image. "He wore tie dye and followed the Grateful Dead around," Ilnitzki says. But when he introduced the White Zombies to the group, they knew he'd fit in just fine.
Later, Joey Larkin joined, complete with a fierce Mohawk, manic tendencies and incredible artistic abilities. But when Larkin chose to follow his visual art talents, the group came across Carpenter.
"In 1993, he begged us to join," Thomas jokes with that familiar smirk. That Halloween show marked the exit of Larkin and entrance of Carpenter and the start of 20 years of the group bringing their spirit and love of the music to the masses. Between 1993 and 1995, they released three cassettes, "because that's what you released back then," Ilnitzki says with a laugh. And songs from those recordings, "Born Again Savages," "Soup of the Day" and "You Owe Yourself a Drunk," will regain life with the release of a new project the band is embarking on for its anniversary.
In August, the group reconnected at Moletrax to record six new songs, four originals and two covers. Those, along with remastered recordings of older songs (taken from the original 1-inch tapes), will combine to celebrate the anniversary on a 20-song retrospective album. The record will be recorded by Jeff Moleski, produced by the Savages, mixed by an old friend of the band, Tim Harrington (Masters of Reality), and mastered by Jocko at MoreSound Studios.
The final product will celebrate a group that has managed keep the spirit of their 1993 project alive and in line with their original intentions, despite a break from 2004 to 2008 and member changes that saw Tom Bushnell, Joe Stanley, Al Smead and Bobby Budd also join the lineup. Today, the group features Nathan Angell on guitar, although DiRienzo performed on the new tracks, as well as Ilnitzki, Carpenter and Thomas. Tracks include the band's steadfast take on The Simpsons' theme ("We've closed a lot of sets with that," Thomas says), a Masters of Reality cover, "Mr. 77," and "Happy Pill," an original that Carpenter and Thomas. completed in minutes.
"They had the music and asked me to write the words," he says. "I sat down and listened and told them to keep playing and I kept writing and writing. By the end of the song, I had all the words written, and I said, 'What do you think?' We kept them all and haven't changed a thing."
The band sounds bigger, fiercer and more precise than ever, with Carpenter's strong and passionate voice leading the march. Years of performances and working with incredible talents like Harrington have paid off, and it's audible.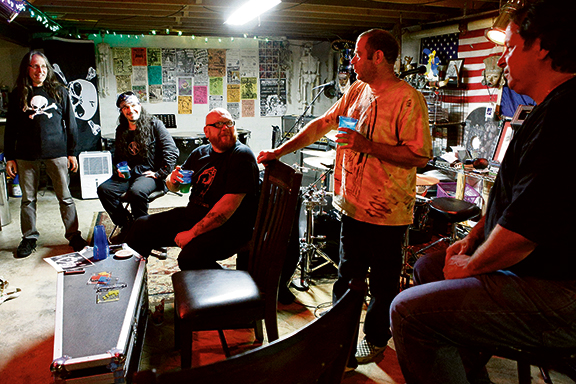 The stories could (and did) roll for hours. The band spent six weeks as K-Rock (WKRL-FM 100.9)'s Battle of the Bands leader in 1996 and had a van they called "Statutory Grape" thanks to the purple shag inside. Ilinitzki laughs about losing Sammy Awards, and Thomas gets angry about a review that misunderstood the band's excessive use of frankincense. ("They said something about a boatload of patchouli. More like a boat load of expensive frankincense!") Carpenter remembers his 17-inch Mohawk, and everyone laughs about stealing sandwiches and beers from an Ozzy Osborne cover band or walking into gas stations on the road.
"I'd let Tom walk in first and then wait a few minutes," Thomas says.
"All eyes were on us," DiRienzo says. Twenty years later, they still are.

[fbcomments url="" width="100%" count="on"]