The 2011 New York State Blues Fest was held at the Inner Harbor with a stunning lineup that featured headliner Ronnie Earl on the final night and Jose Alvarez making his triumphant return to Central New York. But those who saw the performance by Dana Fuchs doubtlessly did not forget it. Her voice has a raw authority, untamed like her wild head of blond curls. Fuchs is passionate and powerful, animated and relentless in her all-or-nothing delivery, and she made it all clear in that setting-sun performance. She stole the show.
The Janis Joplin comparisons were easy to understand, and those similarities came in handy when Fuchs performed the lead role in the off-Broadway musical Love, Janis and her Joplin-esque role as Sadie in the 2007 movie Across the Universe. But Fuchs has focused on taking her voice beyond comparison, showing her solo strides in her albums Lonely for a Lifetime (2003), Love to Beg (2011) and her most recent, Bliss Avenue.
On Sunday, Nov. 24, Fuchs will bring that same energy to Upstairs at the Dinosaur Bar-B-Que during a benefit for the future of the New York State Blues Fest.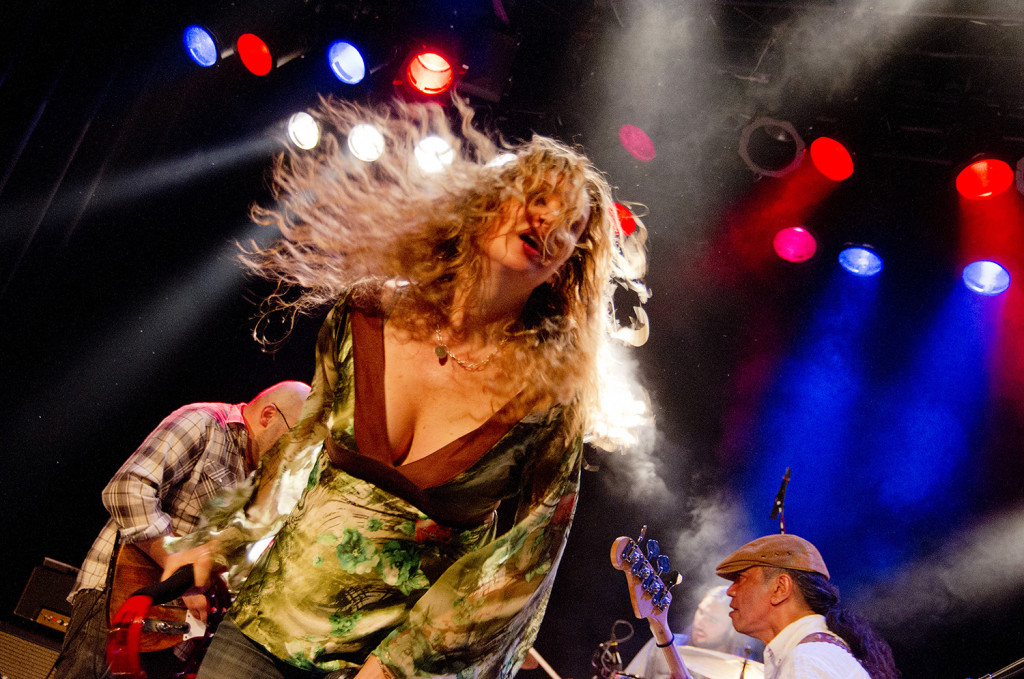 The festival, which ran into financial trouble that led to the scrubbing of the 2012 edition, is in the process of regrouping and raising funds to support a new and stronger model. And if anyone knows about regrouping and becoming stronger, it's Fuchs.
Fuchs was born in New Jersey and raised in Florida as the youngest of six children. Her parents were major music fans, filling the house with artists like Ray Charles, Stevie Wonder and Billie Holiday. Her older siblings went on to fill her head with classic rock cornerstones like Led Zeppelin, the Rolling Stones and The Beatles. And her older brother and sister went on to form their own band.
"I had a job," Fuchs says. "I'd write all the lyrics out. I knew all the lyrics to everything."
At age 9, Fuchs was sitting in to sing with the group. When she was 16, she threw on some high-heeled pumps, said she was 21, and auditioned for the lead role in the same band after her sister had left. She performed regularly with the band, but by 19, Fuchs was ready to move forward and head north. She had friends who were moving back to New Jersey, and took the chance herself.
"I always wanted to go to New York," she says. "They were going to New Jersey, but it was close enough. I offered to pitch in and sat in the back seat with all their luggage."
Fuchs moved to Manhattan and worked every job she could before she had a fateful meeting over a futon. "I was in this little futon shop and this guy wanted the same one I did, so one of us had to wait," she explains. "He was so nice and told me to take it, but I said I'd wait, too, so we got to talking and it turned out he was the owner of a club on the Lower East Side. It was a blues club and he told me they had a jam and said I should come down."
When the day of the jam came, Fuchs remembered at the last minute and made her way down, where she heard a performance by guitarist Jon Diamond. "I said I was a singer and they asked me to sit in," she says. "I had never heard blues before, but I pretended like I did and butchered 'Stormy Monday." But at the end, Jon said, 'You have a good instrument. Give me a call sometime.'"
That partnership has since blossomed into a songwriting and performing team that travels the world delivering their soulful tunes. After years of residencies in New York City and Fuchs' journey to the off-Broadway stage with Love, Janis, she also got recognized by Julie Taymor, producer of Across the Universe.
Taymor had asked Fuchs to help with a Disney project. But once that wrapped, Taymor never forgot Fuchs' voice, especially as she began to write Across the Universe. Fuchs did an audition for the role of Sadie, but didn't hear back. Eventually they asked her to help in selecting the actor for another role in the movie, but Fuchs still didn't know if she had gotten her part.
"I finally said to Julie, 'I'm coming here every week, but I still don't know: Who's Sadie?'" Fuchs says. "She looked at me and said, 'You are! I wrote that part for you!' She thought the casting agent had told me and they thought she had told me, so no one told me. I felt like I was in a movie."
It was through the experiences of Across the Universe and Love, Janis that Fuchs came into her own. As she describes it, "I was always so worried about my own show: Will the crowd come? Will they like the originals? But when I did Love, Janis, I'd ride my bike, hop in and do the show. My inhibitions were gone when I was just playing someone else. So, I thought, I need to bring this into my own shows. Throw self-consciousness out the window. And then Across the Universe: It was validating to be on screen playing that role. And now to live on in that film. . . "

Despite her success, Fuchs has also hit devastating roadblocks, notably the loss of her sister to suicide and her brother to a brain tumor. "She was my only sister," Fuchs says, holding back tears. "I really worshiped her. When she died, I realized, she had passed some sort of torch to me. It makes me emotional. It's not that she died for me to be a singer, but her death was the biggest catalyst for me to get my act together and follow the dream she had. My brother dying was not by choice, but my sister took her life. It's so hard to imagine being in a place where you feel that hopeless. It shaped a lot of my songwriting."
It also shapes Fuchs' attitude and approach to life and to music. "You realize death is a part of life," she says. "On stage when I talk about the loss of my brother, it's not meant to be depressing. But I say, let's all agree to be in this moment and to live in the moment. I was talking to an audience at an outdoor festival about my sister and brother one night and I said, 'Bring those people here tonight.' Everyone started screaming names. It was really intense."
Blues Fest Benefit
Who: Dana Fuchs
When: Sunday, Nov. 24, 8 p.m. Doors at 6 p.m.; Colin Aberdeen opens at 7 p.m.
Where: Upstairs at the Dinosaur Bar-B-Que, 246 W. Willow St.
Tickets: $20. All money raised goes toward the 2014 Blues Fest. Also 50/50 raffles and the official announcement of Jim Murphy as director and president.
Information: 476-4937; dinosaurbarbque.com.
Advice from the Artist "Stick with it and don't let anybody ever say you can't do it. Everyone will say, 'Oh, that's so hard,' but everything is hard. If you've got the talent. put the work in. And remember: Don't try to be cool. Don't give a shit about being cool. It's not about looking good and liking my songs: It's about expressing something and giving something to those people out there who stopped for two hours to escape life for a while. Let all the flaws and warts out for everyone to see."
–Dana Fuchs
comments