The patron saint for dreamers everywhere makes quite an impression on the big screen.
In "The Secret Life of Walter Mitty," Ben Stiller goes all out to make the most out of James Thurber's 1939 short story. Stiller directs the grand tale of a guy who screenwriter Steve Conrad has placed in all sorts of adventures. And Stiller plays Mitty quite well as a quiet guy who starts in a Life magazine job called, ironically, negative assets, and ends up as a man who's positively found his own path to the top of the word.
It's as pretty a picture as you'll see. The fantasy effects when Walter jumps through windows in his daydreams are startling and realistic. The adventure effects when he starts jumps out of a plane in his real life are even more shocking and vivid. And the landscapes of Greenland and Iceland and yes, Manhattan, are simply gorgeous all along the way.
Poor Walter starts as a guy prone to "zone out," as his loopy sister (given a kind eccentricity by Kathryn Hahn) pins a label on it for their wise but tired mom, played sagely by veteran star Shirley MacLaine.
He even daydreams when given a minute by his new office interest, Cheryl Melhoff, who's understated and simply attractive, thanks to the good work of Kristen Wiig.
The office culture gets blown up when Life magazine is acquired, and a mean new director played with much snark by "Park and Recreation" nerd Adam Scott, tells all that the next print issue will be the last before the operation goes online-only.
Elusive world-traveling photographer Sean O'Connell sends his pick for the final cover to Mitty's department. But said negative No. 25 is nowhere to be found.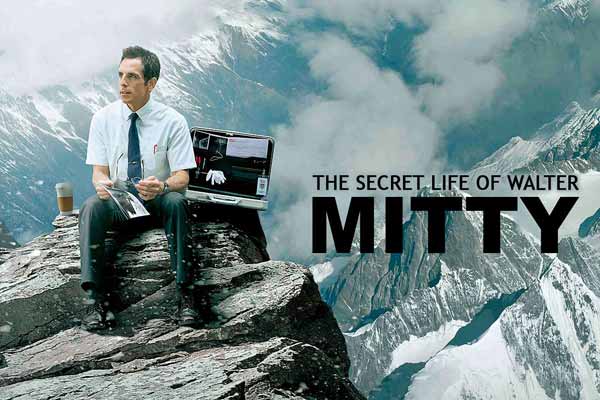 Cheryl helps Walter figure out a few loose clues, and off he goes to find the mystery man. The real-life adventures that stand in his way make his daydreams seem pale. The photographer, played as a rugged guy with a kind eye by Sean Penn, is suitably impressed by Walter's new persona. But then again, he was a fan from the start.
The message is as old as the hills. You can't succeed if you don't try. In fact, that's the gist of Life magazine's far-wordier motto. Walter Mitty looks great taking it to heart.
For more Film News & Reviews CLICK HERE 
[fbcomments url="" width="100%" count="on"]