We all love ice cream, some of us more than others, and this includes the lactose intolerant folk living on the edge – they know ice cream is worth it. How can you not take advantage of an ice cream outing during the summer and fall months when weather is appropriate and homemade ice cream flavors shift appropriately? But you don't have to be a kid to fully enjoy the ice cream experience; there are the adults who cannot resist sprinkles or eating their frozen treat and embracing their inner child, forgetting where their mouth is. And speaking of inner child, this proved to be a meditative trip down memory lane.
On Saturday, September 27, 2014, four members of the Syracuse Ice Cream Kids Club took the initiative to redefine the definition of going on an "ice cream run" – literally running to each location of Gannon's Isle. Stef Noble (who designed the T-shirts), Tracy Tillapaugh, Ryan Delaney, and Christopher Malone (well, "I") started the 9.49-mile trek at the Downtown Syracuse location, ventured up through the Near Westside and up to the Shadybrook location at the corner of McDonald and Velasko Roads. Without breaking a sweat, Delaney conquered the McDonald Road hill between Strathmore and our destination. We three remaining runners eventually made it up the hill. My stopping to walk helped alleviate a growing cramp that may have – if provoked enough – caused my side to explode in very disastrous and over-exaggerated fashion. This was after an accidental and improvised falling technique that was perfected on-the-spot; we're still waiting to see if the three passing kids posted it on YouTube.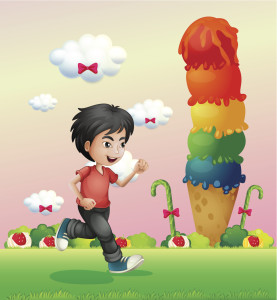 I wasn't always a runner. Aside playing soccer, I didn't get into running until 10th grade and for a 1999 health class project, making up and keeping busy after a 15-stitch foot accident cost me joining the JV soccer team. And jogging was never really taken too seriously; it was done to simply stay in shape and not for pleasure, but the activity is presently viewed as the latter. My lanky awkwardness, which has dissolved (a little bit) since my teenage years, may have struck back in full force with my tripping. But, now, if running doesn't happen, my crankiness exceeds that by a lack of coffee. We hit Onondaga Park. The white gazebo's reflection glistened in Hiawatha Lake. Looking up the willows and the stone bridge, when combined with the gazebo and lake, the view proved itself to be one heck of a panorama. But we were running, and taking a picture would take away from the purpose of running. A handful of months prior, it was the spot of a wonderful picnic date. A few years ago, the grounds provided my favorite area to play bocce with Paul Colabufo and friends in the' Turbo Bocce league. And in 2002, due to the park's consistent photogenic nature, it provided the perfect backdrop for pre Westhill senior ball photos. As the temperature peaked in the mid-80s, we found out that the first stop on our tour was not opening until 2 PM. No ice cream for us there. However, there was time to marvel at the plaza that has provided great food through Velasko Pizzeria & Deli and Kelley's Bar & Restaurant, my favorite crowded place to watch a Syracuse Basketball game or to have a date cut out on you early in order to give her dad a haircut. Plus, Dr. Carpenter has always made going to the dentist more tolerable through the years. With Velasko Road in construction disarray, we ventured back through Strathmore to the near Southside and into the Valley for our second stop. While Ryan and I enjoyed our pumpkin custard orders, the ladies enjoyed some orange sorbet. Frankly, Gannon's has the best damn custard I've ever had. The pumpkin flavor wasn't overwhelming, and it wasn't too sweet; it resisted melting on my tongue, which was perfect when allowing the treat to linger and be savored.
After pictures were taken by our friendly fellow Gannon's patron and new friends (whether they like it or not), a few of those wanting in on our fun run, we headed to South Salina Street for a straight shot back to the Downtown location. Our stomachs needed to be satisfied, and we enjoyed more ice cream; hence, the main purpose for the run. From 2006 to 2010, South Salina Street was a preferred route to get to work at
Loretto
. It was a place where
meditation
proved itself to be worthwhile and significant part of life. It is also a place of pleasure when running into a former coworker, whose daughter is a hairstylist, at the fashion show on Walton Street a couple weeks ago. Overall, the atmosphere wore on me pretty well, the fact that we are all on paths of deterioration in our older years; it served as a reminder to enjoy life as we have our health, and chatting with some older and wiser short-term residents always proved to be uplifting to me. The last leg of the run was the toughest aside being hill-less. The custard kicked in my stomach, which took on toll on my right side, where the previous cramp showed up. Ryan's girlfriend greeted us at the finish line, taking pictures. I quickly ran to the car and applied more deodorant before entering the parlor. My tired and sweaty self tried to hug Kate of
Syracuse Food Tours
– another bocce player who once beat me fair and square – and she gave me a look that said: 
I hope you're joking
. The four of us thought about deciding on the friendliest part of the city, but – to be honest – every person we encountered was friendly. The guy with the gold teeth seemed to take a liking to Stef as we explained to him and a few other guys what we were doing. A little Chihuahua, a puppy the size of a rat, seemed to want to tag along for the run. And the big-ass cheeseburger, so greasy that the onions slide off of it, an order that a gentleman gave his lady friend as he leaned out a second floor window, never sounded so good.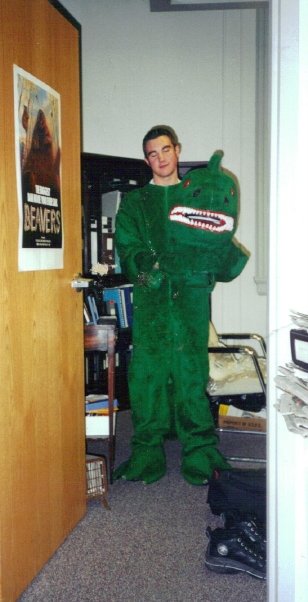 The afternoon event came to a close, and I headed back home to help my parents celebrate their 34th anniversary. We hit up
The Garage in Skaneateles
that night. Part of the ride was dedicated to seeing the
M.O.S.T.
, my first actual job when I was 16, which was 15 years ago. I still volunteer at events today, which only solidifies my attachment, but I stopped working part-time in 2009. The museum was the place where I met one of my closest and dearest friends, Rebecca. In front of the museum, my friend, Matt, and I once kicked off the detached muffler of the Ford Tempo after it began to drag. It is where I first learned to speak and entertain in front of large groups of people. The planetarium shows were always preferred over the live animal shows – aside my ferret buddy, Sweet Pea. And the Jefferson Street alcove, a place where the homeless sleep and piss now, was the perfect make-out spot after a coffee date at Happy Endings. (No pun intended.) It's been an exasperating and exciting 15 years. I still look up at the stars – despite not being in a domed planetarium – and ponder: 
What next?
and 
Where do I go from here
?
***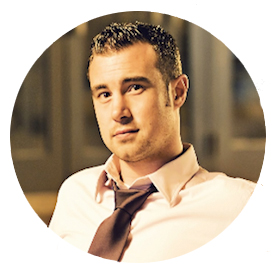 Christopher Malone plays with more thoughts and words at his blog, The Infinite Abyss(es), and at Kinani Blue. He can also be found creating worlds and playing with invisible objects with the Syracuse Improv Collective.  Feel free to tweet at @Chris___Malone, or email him at [email protected].        

[fbcomments url="" width="100%" count="on"]