Gioachino Rossini's The Barber of Seville ranks ninth on Operabase's list of most-often performed operas worldwide. But it's No. 1 as a reliable deliverer of laughter.
Rossini's work is to comic opera what J.M. Barrie's Peter Pan is to children's theater. Audiences enter the theater knowing what's supposed to be happening but expecting calculated reinvention. With opera new voices, linking and blending with one another, can renew any work. Yet Barber, which closes Syracuse Opera's season, brings characters and situations rooted in commedia dell'arte, inviting directors and performers to embroider and reinvent the 199-year-old comedy each time.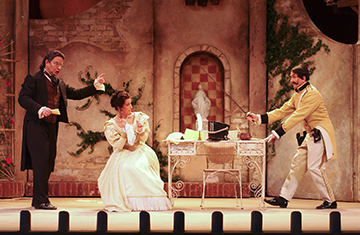 To begin with, Cesare Sterbini's libretto, based on a French play produced 40 years earlier, inserts a joker into the familiar love triangle. Libidinous tenor Count Almaviva (Javier Abreu), given to disguises, is trying to spend more time with strong-willed but confined soprano Rosina (Lindsay Russell). She's stuck with her domineering ward, baritone Dr. Bartolo (Steven Condy), an old letch who has designs on the girl himself.
Aiding the Count in his plans is the baritone barber of the title, Figaro (Luis Alejandro Orozco), one of the most imitated comic figures in western literature. A living paradox, he's a clever liar, a moralist given to unscrupulous means.
Musically, The Barber of Seville qualifies as a greatest hits show. The fireworks overture, constantly stolen from by later composers in classical and pop, sets the stage on fire even before the action begins.
Figaro's entry aria, "Largo al factotum della città" ("Make way for the factotum of the city"), is a masterpiece of tongue-twisting bravado in 6/8 meter. You will know it immediately even if seeing Barber for the first time or not knowing any Italian. The patter elements anticipate the glories of Gilbert and Sullivan. Then again, it was also the favored aria of Woody Woodpecker, Bugs Bunny, Porky Pig and Tom and Jerry. It even shows up in Mrs. Doubtfire.
French playwright Pierre Beaumarchais invented Figaro for the Paris stage in 1775, and he eventually appeared in three connected plays. The name "Figaro" is a variation of that playwright's nickname, and he put a good measure of himself into him. Quite a few composers wanted to musicalize the mischievous character, and W.A. Mozart himself turned the second part of Beaumarchais trilogy into The Marriage of Figaro 30 years before Rossini got to the first part.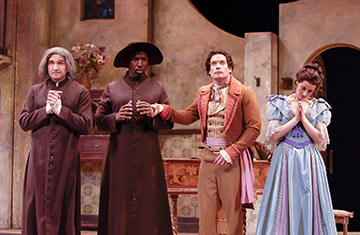 Syracuse Opera artistic director and conductor Douglas Kinney Frost, along with stage director Jeffrey Buchmann, have assembled a young cast with strong credits. Some faces and voices, nonetheless, will be familiar to local audiences.
El Paso-born Luis Alejandro Orozco made a lasting impression with local audiences a year ago as the imposing El Payador in Astor Piazzola's Maria de Buenos Aires, the tango opera. Taking a few dance steps as he sang. Orozco's El Payador was a sexy, dark mysterious figure, not a lover but rather a cautionary voice that could not be ignored. He wasn't the lead, but his dynamic presence dominated many scenes.
Soprano Lindsay Russell is making her Syracuse Opera debut as Rosina, but many audience members will know her for frequent appearances at the Glimmerglass Festival in Cooperstown. She was still classed as a "Young Artist" when she appeared in Tony Kushner and Jeanine Tesori's Blizzard on Marblehead Neck (2011), a challenging new one-act on the troubled life of playwright Eugene O'Neill. Russell's casting by company head Francesca Zambello implied favor from the highest quarters.
Russell was back the next year as Frasquita in the box-office smash Carmen, winning high praise. But it was the following year that she gained the most attention as the lead Laurie in Aaron Copland's almost never-performed Tender Land, where she was widely seen as the best thing in an astringent work.
Baritone Steven Condy as Dr. Bartolo arrives with a glowing paper trail of raves. Condy has excelled in comic roles, especially Falstaff, inviting reviewers to make wordplay on his name and that of the late John Candy. Offstage, he's visibly awfully young to sing the role of the aging autocrat, but that's what acting is. He's taken on the role with a dozen companies, including some of the best in the land: Boston Lyric, Houston Grand, Washington National and San Francisco Opera.
Syracuse Opera's The Barber of Seville will have performances on Friday, April 17, 8 p.m., and Sunday, April 19, 2 p.m., at the Mulroy Civic Center's Crouse-Hinds Concert Theater, 411 Montgomery St. Tickets are $26, $46, $81, $106 and $136. For details, call 476-7372.

[fbcomments url="" width="100%" count="on"]