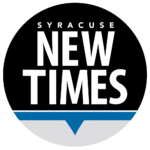 The Syracuse New Times celebrated its 50th anniversary in February 2019. For five decades, our award-winning team of journalists has proudly produced a weekly newspaper focused on Central New York's community, from art to local politics, food, music, entertainment, live theater and more. Our roots go deep — the New Times is now the oldest remaining locally-owned alternative newsweekly in America. We work hard to provide a community forum — a dedicated place for our readers to congregate for the purpose of engaging with community institutions, entertainers, politicians and advertisers. Our brand of locally-produced, well-researched stories seek to inform, educate, entertain and encourage action, while providing a healthy dose of insight and a more-than-occasional bit of irreverence, in a neatly designed print package.
During the first 50 years, our entire effort was supported by advertising revenue from local businesses, who rely on the educated, affluent and engaged audience delivered by the New Times to make their cash registers ring. We distribute an average of 30,000 copies/week throughout 1,100 locations in six counties across CNY, at no charge.
However, no business is immune from disruption, but few have experienced as much disruption as publishing. The revenue once focused locally and now consumed by tech giants is gone forever from our region, and is not available to sponsor a not-for-profit event, an artistic performance, a Little League team or otherwise ripple throughout the community for the benefit of all living here.
Beginning on April 24, 2019, we will cease distribution of free copies of the paper to the 1,100 locations in CNY. Instead, we will give our readers an option to continue to receive the Syracuse New Times delivered directly to their homes and businesses via a subscription model.
Frequently Asked Questions
Why are we going to a subscription model?                     
For 50 years, we have been writing great stories that inform and entertain our readers, while distributing an average of 30,000 papers per week for free. The ad revenue we sold was sufficient to cover our costs and pay our staff a living wage.
However, massive disruption to the publishing industry from digital platforms that have taken revenue from local businesses that previously spent their profits on advertising with us, and simultaneously consume our written content for free, has altered the business model permanently.
We are now asking our readers to join us as subscribers in order to continue to access both the print and digital content they desire from the Syracuse New Times.
What will be different about the new model?
Whereas before the Syracuse New Times was available on stands throughout Central New York, it will now be delivered directly to your home or business via the U.S. Postal Service and simultaneously available digitally for all subscribers. This will begin with the April 24, 2019, issue, following the highly anticipated 50th anniversary issue on April 17, for one simple, low price with four noticeable changes:
The design will be cleaner and more magazine-like, printed on bright white paper.
The paper will be delivered directly to your home or business every week via the USPS.
We will implement an enhanced e-reader experience for our digital readers that has responsive design, embedded photos and videos and links to advertisers' informational URLs, with read-aloud capability for our visually impaired friends, plus the ability to easily share a story or photo with digital communications (email, text and social media).
Subscribers will have access to VIP events, special deals and coupons throughout the year.
What will remain the same?
We will continue to offer our high-quality, hyper-local content with the voices you have come to know and trust. Much of the content will remain the same — or expand in volume — including coverage of arts, dining, entertainment, community events and issues, News of the Weird, SU sports, politics and more.
Our free community calendar and some other pages on the web site will still be available for everyone. 
How can I sign up for a subscription?
You can set up a subscription in three ways:
Set one up yourself directly online at my.syracusenewtimes.com
Call the office at 315-422-7011 and ask for Megan, Tom or Anne. They can take your information over the phone to get you set up.
Subscription forms may be mailed to our office at 1415 W. Genesee St., Syracuse, NY, 13204.
Can a business sign up for a membership?
Yes! We encourage them to get multiple copies for their lobbies, waiting rooms, employees and customers.
How much does a subscription cost?
Introductory subscription pricing covers both print and digital access for $1/week, billed at $52/year. This equates to the cost of about ½ a cup of your favorite coffee or ¼ a pint of your favorite craft beer.
On May 16, it will be $1.50/week, billed at $78/year. Quarterly pricing will also be available for $22.50. There will also be an option to gift a subscription to a friend.
Can I cancel the subscription?
Yes. You can cancel your subscription at any time, and on the first day of the next month your remaining paid balance will be returned.