The title of Terrence McNally's 1991 dour comic hit Lips Together, Teeth Apart, performed by students of the Syracuse University Drama Department, does not contain a sexual in-joke.
It's only a repeat of the dentist's advice to avoid grinding one's teeth while sleeping. Yet we also know that tension-driven teeth-grinding arises from unplumbed phantoms lying deeper in the psyche.
What a better time and place to bring darkness to the surface than a sunny Independence Day weekend circa 1985 at a magnificent, chic beachfront property with four reasonably attractive middle-class people, a brother and sister and their spouses. We're only a few minutes into the action when we realize that McNally's plan is to have us recognize our first impressions are misleading.
The posh beach house, designed by Katie Tulin, is smack in the middle of Fire Island, the gay colony. It has been inherited from Sally's recently deceased brother, David. Everyone assumes David died of AIDS but will not mention it. Each of the hetero couples, however, resist swimming in the pool downstage for fear that it is contaminated. We never see the neighbors, but we hear their music preferences for vintage show tunes (Jule Styne's Gypsy) and classical items (Franz Schubert's Moments Musicaux). These prompt Sam (Max Adoff), a New Jersey building contractor, to bellow, "Hey, what do you guys have against Tony Bennett?"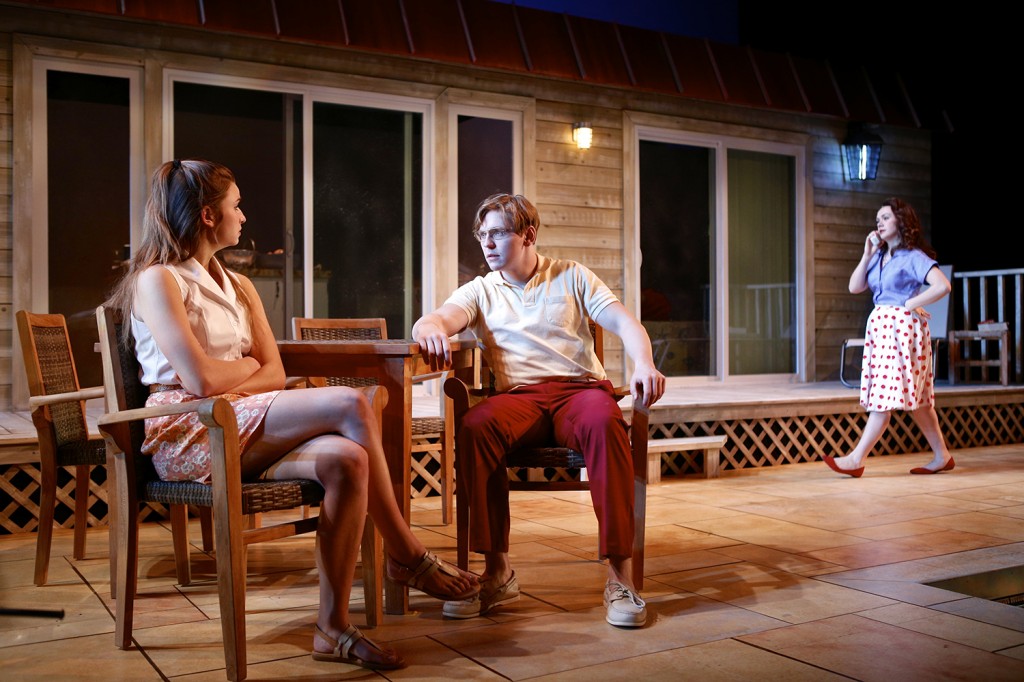 Sam, given to homophobic outburst, is married to the pensive Sally (Natalie Oliver), a painter gripped with regret for her many miscarriages. Sam's sister, the noisy Chloe (Bryn Dolan), calls herself a "walking nerve end," constantly trying to raise spirits with food and drink no one especially wants. Her husband, tall, blond and haughty John (Carl Fisk), is so self-absorbed that he can't tear himself away from the New York Times crossword puzzle.
The siblings appear to have little in common, but we never understand how the two couples ever got together. Then again, differences foster drama. The costumes by Alex Peterson not only emphasize the chasms between people but become a part of the drama themselves. The outfits worn by Chloe, an affluent woman of gauche taste, excited much laughter from the opening night's student audience.
McNally's intentions are broadly Chekhovian, in that characters' statements must be understood in context, and each character reveals hidden qualities. Yet each of the four characters speaks aloud their private thoughts in addition to their dialogues with one another. The best-known precedent for such an approach is found in Eugene O'Neill's Strange Interlude (1928); savagely mocked by Groucho Marx in Animal Crackers (1930), it has been little seen since.
We learn that John has cancer, a subject no one is talking about. Initially discreet is John's affair with Sally, until we realize that Chloe is on to it and Sam has acute suspicions. Preppy adulterer John is destined to get into a knockdown fight with blue-collar cuckold Sam, even though the issue is nominally something else.
Lips Together, Teeth Apart is an odd choice for a university drama department: only four roles, all nearing age 40, which is harder for undergraduates than playing senior citizens. Director Gerardine Clark must have been attracted to the really meaty roles as a teaching vehicle.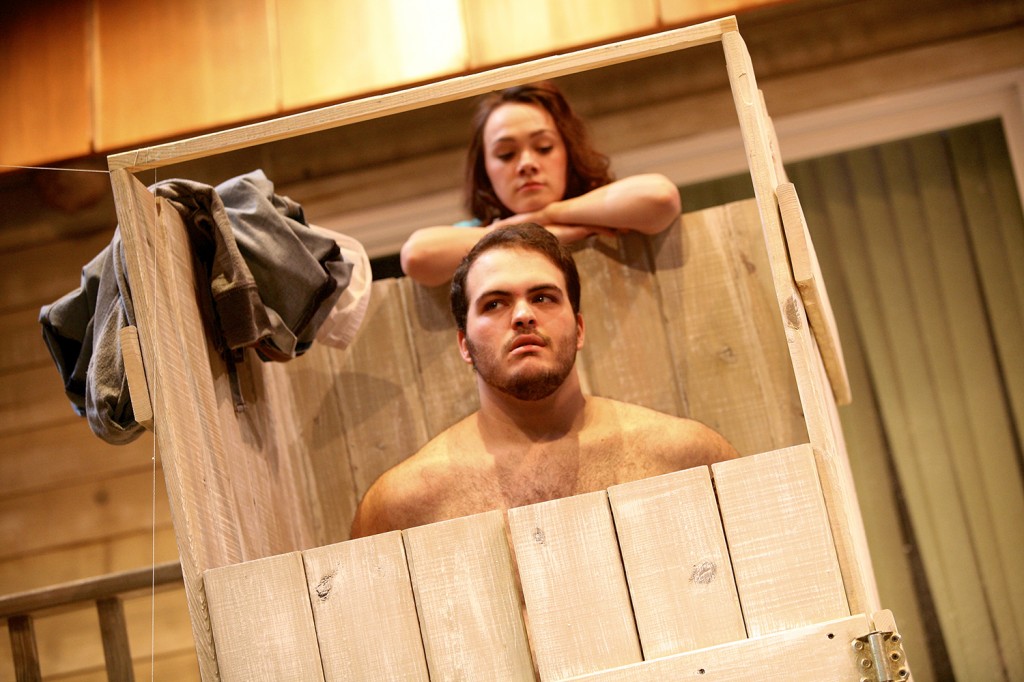 The role of Sam requires Max Adoff to expose himself, literally, as in the shower scene where his eavesdropping sister begs to see his penis. Initially the character McNally would be most inclined to dislike, Max travels the longest arc, signaled in his costume changes, but made flesh by Adoff's underplaying such a rough-hewn character.
Natalie Oliver's Sally begins as a ninny of misperception, infuriatingly mangling old movie titles and mashing one plot line into another. But she remembers the recently deceased David and proves to be the best-grounded of all.
Bryn Dolan's Chloe gains from some of the funniest lines as well as the wisest ones, allowing us to see she has the sharpest self-perception. In portraying John, top of the heap socially and physically, Carl Fisk emphasizes the subtext of uncertainty.
Terrence McNally has had a good winter in Syracuse, with his musical A Man of No Importance performed last month at the Redhouse Arts Center and now this polished production of one of his most ambitious works.
SU Drama's Lips Together, Teeth Apart has performances on Wednesday, Feb. 25, through Friday, Feb. 27, 8 p.m.; Saturday, Feb. 28, 2 and 8 p.m.; and Sunday, March 1, 2 p.m., at Syracuse Stage's Storch Theater, 820 E. Genesee St. Call 443-3275 for details.

[fbcomments url="" width="100%" count="on"]