Although triathlon season doesn't usually start until late May and early June in this neck of the woods, an upcoming event will get triathletes moving earlier. The Central New York chapter of the Alzheimer's Association's second annual Indoor Warrior Triathlon will take place at Gold's Gym, 7455 Morgan Road, Liverpool, on Sunday, April 6, 1 p.m.
While most triathlons are by distance (such as a 750-meter swim, a 12-mile bike ride and a 5k run), this indoor tri switches things up. Athletes are given set times–10 minutes of swimming, 30 minutes on the bike and 20 minutes running–and let loose to see how far they can go in those set times.
"It's a great test for current triathletes and for people who might be a little apprehensive," says Grant Fletcher, associate development director. "For the casual athlete that wants to try it, but doesn't want to train six to eight months for the event, this is much easier and less intimidating. The whole event takes a little more than an hour."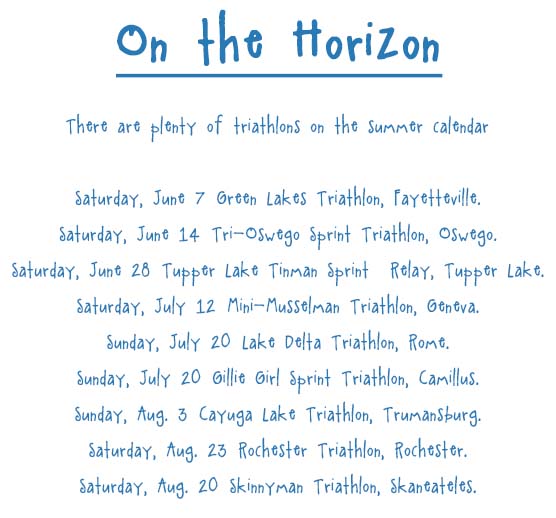 It also involves much less equipment: No wet suit is needed for the indoor pool and indoor spinners (for bikes) are provided.
Participants are split into waves to make room in all areas and give time between events to change (seven minutes between the swim and bike and five between the bike and run). In its first year, the fundraising event drew athletes young (ranging from high school-aged participants) to not-so-young (those in their 60s), and collected $15,000 for the Alzheimer's Association.
"Last year was a very good success," Fletcher says. "We wanted 100 athletes and got 60, so more than 50 percent of our goal. And to raise $15,000 of the $20,000 we wanted. . . any time you do an athletic event and get those results, it's very good."
The money goes toward the organization's three-part mission: funding research to find a cure; providing local support, care and education; and promoting overall brain health. "We do things to keep our heart healthy," Fletcher explains. "We need to do the same for our brain, as well."
Participating this year is Dr. Cynthia Huling-Hummel in her first triathlon. She is also an athlete who lives with the disease.
I'll also be racing once again. Last year I tied for first in swimming and was near the top for running, but fell short in biking. Fundraising has also been going well: I've raised more than double my $250 goal. For those who wish to donate, visit my FACEBOOK to get the link.
For more details, visit cnytriathlon.org/racing/local-race-list.


Jessica Novak  is a graduate of Syracuse University's Newhouse Goldring Arts Journalism Masters program, and covers music and fitness for the Syracuse New Times.

[fbcomments url="" width="100%" count="on"]