Kids Expo, presented by Family Times, comes barreling into the New York State Fairgrounds' Horticulture Building on Saturday, April 14.
At Kids Expo 2018 will be the Geico Monster Trucks, Shock Wave and Be Aware, which will be on display — quietly — from 10 a.m. to 1:30 p.m. That's when kids can get close and parents can take photos of their children with the vehicles and drivers, Jessica Braukmann, age 24, and her brother, Billy Braukmann, 22.
Once picture time ends, demolition time begins! Bill Braukmann, father of Jessica and Billy, said the sound of the trucks can be "ear deafening" — but for most kids, that's part of the attraction. "They're like a child magnet," Bill Braukmann said.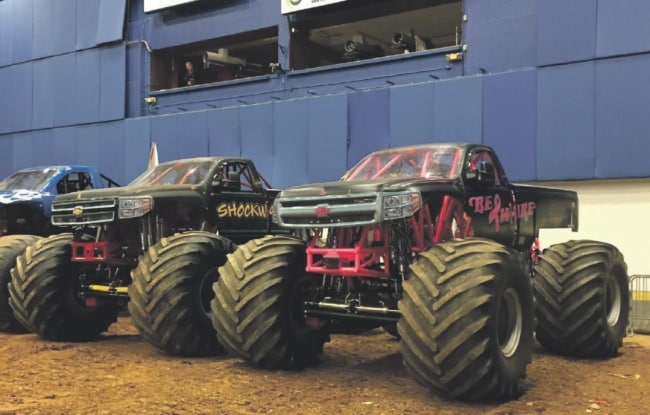 At about 1:30 p.m., the two trucks, weighing 10,000 pounds each, will exit the Horticulture Building and put on a 15-minute show outside, and will demolish four junk cars provided by Bill Herrig's Auto Parts of Rome. After flattening the cars, the trucks will then jump the cars.
Kids Expo starts at 10 a.m. and admission is free. It's an event that gives families a chance to plan their summer in just one day. Exhibitors include summer day and overnight camps, and a variety of special-interest programs.
Besides the monster trucks, entertainment will include: big-screen video games by Fun Flicks; dance, drum and choral performances; a display of the Onondaga County Sheriff's Department's SWAT vehicle; and a fencing demonstration. Children can also hop in a bounce house, get their faces painted, and take part in a painting session of their own.
Exhibitors will be sports organizations, summer and afterschool programs, daycares, health services, county libraries, and summer camps. The whole event is sponsored by Family Times: The Parenting Guide of Central New York, the local magazine that offers area parents informative and inspiring articles and comprehensive event listings every month.
Just the Facts:
What: Family Times Kids Expo 2018
When: Saturday, April 14, 10 a.m. to 2 p.m.
Where: New York State Fairgrounds' Horticulture Building
Who: Summer day and overnight programs, and services and products for kids and families
Why: Plan your summer in just one day and have a fun day out with the kids.
Admission: Free
[fbcomments url="" width="100%" count="on"]